FISTS East Asia Chapter 10th Anniversary Awards
---
PURPOSE
The purpose of this awards is to celebrate FISTS East Asia chapter 10th anniversary.
DATE
0001 UTC 1st January 2014 to 2359 UTC 31st December 2014
FREQUENCIES
Any licensed amateur bands.
RULES
usual CW QSO with FEA members.
CATEGORIES
There are 3 awards.
FEA-10 is earned by contacting 10 different FEA members.
FEA-25 is earned by contacting 25 different FEA members.
FEA-50 is earned by contacting 50 different FEA members.
EXCHANGE
RST / QTH / Name / FISTS Number (If applicable)
LOGS
For each QSO logged: Date / Call sign / Name / QTH / Frequency / RST / Time, UTC / FISTS Number. Logs may be in Excel, CSV, tabbed word or Cabrillo format.
GENERAL
Not only all FISTS members, worldwide, but also non-FISTS member can submit. There is no charge. This is awards with prize from donators. Your donations are welcome. Details will be announced in FEA web site.
ENTRIES TO
email to awards (at) fists-ea.org. Logs must be received on or before 15th January 2015.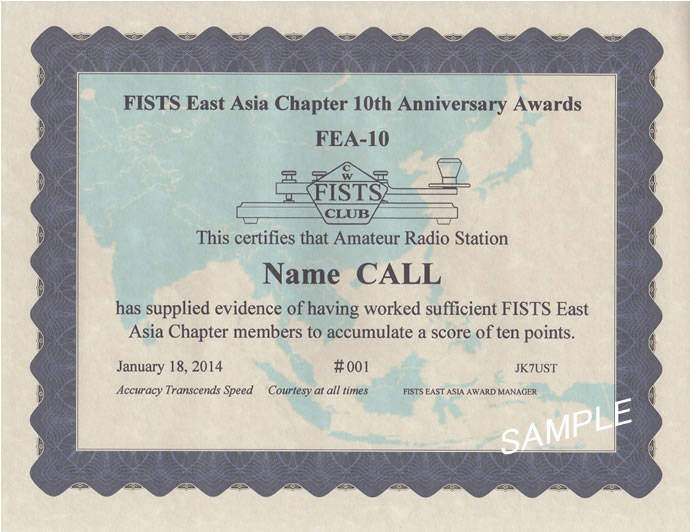 ---
Copyright (c) 2014 by FISTS EAST ASIA. All Rights Reserved.